Fourteen
BSD
2011/06/16 (Thu) 23:50
No. 14633
▼
File 130826825062.jpg - (297.49KB, 850x1200 ,
remmy
.jpg)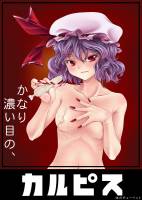 Suddenly, something is torn off your forehead and you wake up.
"Number Fourteen? Mistress will want to see you soon. Please, come with me."

You are lying on the bed in the cell Mistress has given you. You are naked, save for a collar and leash around your neck, a pair of shackles keeping your arms safely behind you, and the chastity cage locked around your penis. The white-haired maid is standing over you, holding a candle. She patiently smiles at you as you slowly get up off the bed, and then takes hold of your leash and leads you out of the dungeon.

You enter your Mistress' bedroom.
An enormous window in the center of the far wall allows the half moon to shine in, and a number of lit candelabras are scattered about on various wardrobes and tables. On the side is a grand four-poster bed, which currently holds your Mistress.

Mistress is lying on her back with one leg folded upwards, basking peacefully in the moonlight. She is wearing a ribbon with a green brooch around her neck, a frilly armband around her left wrist, her pink bonnet, and nothing else. The flickering light of a bedside candle accentuates the smoothness of her body and the barely-discernible curves of her breasts. Your gaze travels down to her arms to the tips of her fingernails, each an inch long and colored a deep, luxurious red. Her folded leg prevents you from seeing her delicate parts, but you do have a full view of her long, graceful legs.

The maid is standing right behind you. "Your meal is ready, Mistress," she announces happily. Mistress nods and invites you to kneel next to her on the bed. She takes your hands in hers and stares into your eyes, giving you a fiendish smile. You start to sweat as you stare into the crimson pools of her eyes.

"Hmm...Fourteen, is it? Just what I'm in the mood for."

Mistress advances and wraps her arms around you, pressing her naked chest against yours. She puts her head on your left shoulder and kisses her way from the shoulder to the left side of the base of your neck. She gives it a long, uninterrupted kiss, then pulls back her head and opens her mouth. You close your eyes and feel the four tips of her fangs resting against your skin. Mistress takes three deep breaths, and then quickly sinks her fangs into you.

You jolt uncontrollably in pain, but the agony quickly subsides as Mistress' saliva enters your blood. She begins sucking, gently at first and then more possessively, and your neck starts to throb with pleasure. You start to moan softly with your head tilted upwards. Eventually, Mistress delicately withdraws her fangs out of the holes in your neck, and wipes her mouth happily as the maid swiftly treats your bite-marks.

Mistress kneels across from you on the bed with her arms between her legs. She looks into your eyes at first, but she eventually she moves her gaze down your sweat-soaked body to your penis, which remains locked obediently in its cage. A smile spreads across her face as she looks back up to you.

"Hey, why don't we play a little before you go back?"

Mistress gets up off the bed and walks to a nearby desk, giving you a clear view of her firm ass and delicate hips. Her wings are folded up tightly behind her, but you can see the sharp points of their tops shining with the rest of her body.

She retrieves a sparkling ring of keys from the desk and returns to the bed, and starts to slowly flip through each key on the ring. You watch and swallow nervously as her nails hold up each of thirteen keys and then flick them all down to the bottom of the ring. Finally, she reaches the fourteenth key. She looks you in the eye as her hands fiddle between your legs, and then the cage pops open and releases your cock. You immediately grow a throbbing erection as Mistress forces makes you kneel on the ground facing the bed.

Mistress shifts her position from kneeling to sitting, bringing her perfectly smooth feet to the level of your cock. She puts her right foot on the top side of it and slowly runs her left foot up the bottom, making a single long scratch with one toenail. She then dabs her big toe in the liquid leaking out of your cock and lifts her leg before forcing the toe into your mouth. You close your eyes and lick all around it, reveling in the taste of your Mistress' skin. She withdraws her foot and and begins to slide both feet all around your throbbing length, slathering it in your precum. At the same time, she spreads her legs open and beckons your head closer to her body. When your head is less than a foot away, she gently opens her pussy with two fingers. Framed by a pair of red nails, it is a very light pink without a shred of hair and barely two inches long. You can clearly make out her tiny clitoris, and a shining clear liquid is starting to seep out of the hole at the bottom.

"Look, but don't touch. Don't move at all."

Mistress squeezes your cock between the sides of her feet and begins stroking with them. You shudder under her touch and struggle to keep your eyes trained on the slow flow of liquid out of her hole. Your nose is filled with the scent of her pussy, which looks more and more delicious every second. You start panting heavily, and despite all attempts at self-control your head starts to slowly move closer. If you were only a bit closer, you could bury your tongue in her and--

Mistress pushes you away and takes her feet off your cock. You eagerly lick your precum off of her feet when she offers them to you, and then the maid steps in and tries them off. You are allowed back onto the bed.

"Hey, Fourteen. How would you like to put it in?"

Mistress sits down on facing you on the bed. You shuffle closer to her, and she locks her legs around your back. She moves to take hold of your cock, but pauses and regards it with distaste.

"I don't think you'll be able to stay in control of that. Sakuya?" The maid produces tiny leather belt and fastens it tightly around the base of your cock. Your cock reddens and swells a little. "It's enchanted to stop you from cumming, so don't think you have a chance," Mistress says. "We're only doing this so you can please me."

Mistress grabs your cock with one hand and spreads her pussy again with another, and puts just the very tip of the head inside so that it doesn't pop free when she removes her hands. She leans back onto her hands and tenses up her legs, poised to pull your whole cock inside her in one clean stroke. You shiver in anticipation, able to just barely feel the warmth and wetness inside of her.

"I'm going to put it in on three, okay? One, two..." Mistress looks over at the maid. "Three!"

The maid pushes with her arms and pulls on you with her legs, forcing the entirety of your length into her pussy.

The maid?

Somehow, the maid has switched places with Mistress, and is in the same position that Mistress was in previously. The maid is still fully clothed save for her panties. She smiles at you, face flushed, as your precum mixes with the fluids in her drenched pussy. Mistress gets on the bed and hugs you from behind, pressing her hard nipples into your chest.

"I changed my mind," she whispers into your ear. "I think this will be much more appropriate for you."

The maid starts slowly thrusting onto you. Your engorged penis feels every slick fold of her insides in excruciating detail, and you start thrusting back, unable to help yourself. Mistress runs her nails all over your chest while licking at your ear and neck. The maid starts moaning loudly and speeds up her movements; your cock starts twitching in strange ways and you start to moan yourself. Mistress' breathing intensifies, and her fingers find your hard nipples and give you a painful pinch on each as she hungrily licks the unbitten side of your neck.

"You're just too cute. I'm going to have to taste you again."

Your stomach drops in surprise and you cry out in pain as Mistress' fangs suddenly penetrate your neck. She moans into you and sucks intensely, draining out your vitality. The sound brings the maid out of her happy reverie and she stops moving, watching you and Mistress intently. As the pain subsides, she smiles and goes back to relentlessly fucking you. Your vision blurs and you moan uncontrollably in response to the overwhelming pain and pleasure. The aphrodasiac effect of Mistress' bite is much stronger this time, and it spreads all through your body even as Mistress withdraws her mouth from you. Your whole body throbs in time with your cock.

The maid cums forcefully around you. Her body spasms again and again, each time squeezing you with such force that she seems to be trying to torture you. Your penis goes out of control and starts to clench up as if you were cumming, but instead of release you only feel an aching discomfort. The sensations make your body go limp, but Mistress keeps her arms around you until the maid's orgasm finally subsides.

Mistress lets go and you fall over backwards, splayed out on the bed, your mind consumed by the fire in your penis. Mistress removes the belt around your cock and gives you some time to collect yourself. After a few minutes, she smiles and closes a thumb and forefinger around the base of your cock. She puts her other palm down on the tip of your cock and closes her hands around the shaft, then pulls her hand up, leaving fives long scratches along the shaft. She repeats this two more times, moving more slowly and scratching more forcefully each time; the third one lasts an entire minute. After that, she angles the shaft down towards her. She quickly jabs one of her fingers into the head, and then does the same with another, and another, speeding up until all five fingers are assaulting the head faster than you can keep track of them. You groan continuously as you endure the sensations, wanting to cum more than anything but unable to get off from Mistress' torture. Finally, she stops and brings her mouth right next to your cock, so close you can feel her breathe on it. If she were to just kiss it, you would be able to cover her head to toe in cum...

"You've been a good boy tonight, it seems like you deserve a reward." Mistress stops to examine your cock: throbbing, slimy, more than a little smelly, and covered in red scratches. "For your reward...I'll let you cum even harder next time!" She lets go of you and sits back, watching as your penis slowly softens and shrinks. She rouses the maid to wipe it off again, and then retrieves the chastity cage and locks it securely back inside. The maid fixes her clothes and prepares to take you back to your cell, but Mistress taps you on the shoulder as you turn towards the door. You turn around, and she plants her lips on yours and slides her tongue into your mouth. You moan softly as Mistress explores your mouth, and you taste your own blood as her delicate tongue circles around your own. She pulls away contentedly and waves goodbye as you leave the room.

You collapse on the bed that Mistress has given you and fall asleep even before the maid affixes the sleep seal on your forehead. It will be days or weeks before your are allowed to awaken again. Until then, you will be alone with Mistress in your dreams. Even there, she won't let you cum.